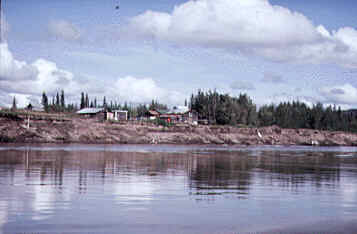 Koyukuk / 1998
Koyukuk is in the north central region of Alaska.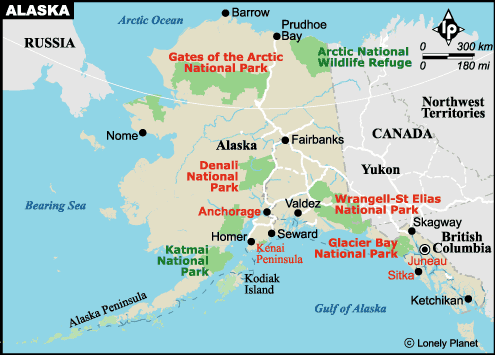 Map of the State of Alaska.- (c) Copyright 2002 Lonely Planet Publications. All rights reserved. Used with permission. www.lonelyplanet.com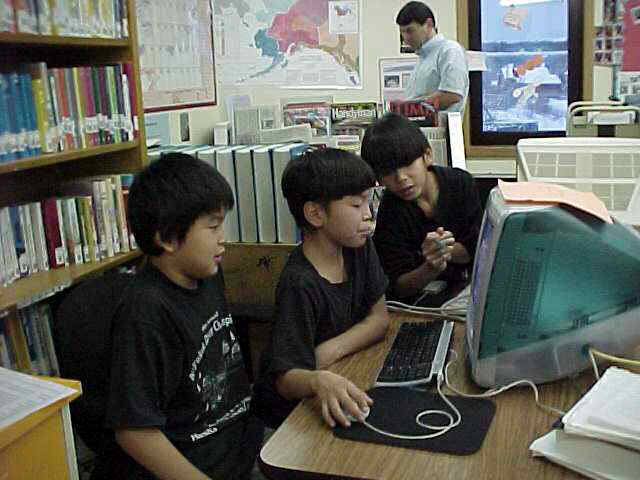 Allakaket School Kids in Computer Lab / 1998
Alaska Department of Community and Economic Development

Allakaket School / 1998
Other Books About Alaska
Balto and the great race Kimmel, Elizabeth Cody. - Random House, New York : c1999. (636.73) "A Stepping Stone book." Recounts how the sled dog Balto saved Nome, Alaska, in 1925 from a diphtheria epidemic by delivering medicine through a raging snowstorm.
Black Star, Bright Dawn
O'Dell, Scott, 1898-1989. - Houghton Mifflin, Boston : 1988. (-Fic-) Bright Dawn must face the challenge of the Iditarod dog sled race alone when her father is injured.
Denali National Park and Preserve
Petersen, David, 1946- - Children's Press, New York : c1996. (979.8) Includes bibliographical references (p. 44) and index. Describes the landscape, wildlife, and visitor activities at Alaska's Denali National Park
Hands-on Alaska : art activities for all ages
Merrill, Yvonne Young - K/ITS , Anchorage, Alaska : c1996. (745.5) #24824A3Presents instructions for a variety of craft activities that recreate some of the Native arts of Alaska, and includes color photographs of traditional Native art from the Anchorage Museum of History and Art.
Julie of the wolves
George, Jean Craighead, 1919- - HarperCollins, New York : c1972. (-Fic-) Newbery Medal, 1973 While running away from home and an unwanted marriage, a thirteen-year-old Eskimo girl becomes lost on the North Slope of Alaska and is befriended by a wolf pack.
Potlatch : a Tsimshian celebration
Hoyt-Goldsmith, Diane. - Holiday House, New York : c1997. (394.2) Describes the traditions of the Tsimshian Indians living in Metlakatla, Alaska, and, in particular, those connected with a potlatch they hold to celebrate their heritage.
Summer coat, winter coat : the story of a snowshoe hare
Boyle, Doe. - Soundprints, Norwalk, Conn. : c1993. (-E-) As the seasons pass, Snowshoe Hare's coat changes from brown to white and back to brown again, helping her to blend into her habitat and avoid predators as she searches for food.
OTHER BOOKS BY THE AUTHOR
Toughboy and sister
Hill, Kirkpatrick. - Puffin Books, New York : 1992. (-Fic-) The death of their drunken father strands ten-year-old Toughboy and his younger sister at a remote fishing cabin on the Yukon River near Ruby, Alaska, where they spend a summer trying to cope with dwindling food supplies and hostile wildlife.
Winter camp
Hill, Kirkpatrick. - Puffin Books, New York, N.Y. : 1995. (-Fic-)Sequel to : Toughboy and Sister. Eleven-year-old Toughboy and his younger sister must survive the harsh Alaskan winter at a friend's winter trapping camp.